How to Donate
To support those who've been impacted by the bushfires, we've set up a scheme ID specifically for the Lord Mayor's Distress Fund where containers can be donated.
Each eligible container is worth 10c, with all funds raised providing direct financial assistance to individuals for the alleviation and relief of distress, suffering and personal hardships caused by the recent bushfires.
To donate, simply use the Lord Mayor's Distress Relief Fund's scheme ID: C10414519 when you return your eligible containers to your local refund point.
To make donating super easy, you can also pick up a free bag from your local Spudshed store to collect your containers in. 
WA has already generously donated more than 60,000 containers to the Appeal- let's keep those donations coming!  
DOWNLOAD SCHEME ID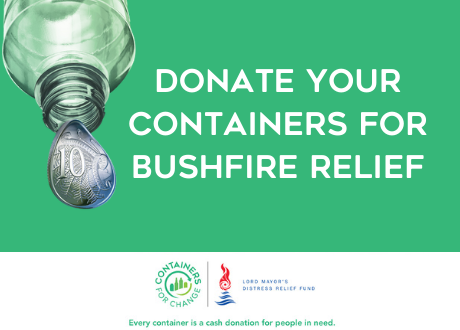 What do you want to do?
Containers for Change provides exciting opportunities for groups and charities to raise much-needed funds, as well as showing a commitment to the environment and encouraging better recycling behaviours in the community. So, why not turn your containers into change today?
Raise money for my group or organisation
If you run or represent a community group or charity, the Containers for Change scheme is an easy and efficient way of raising much-needed funds.
RAISE FUNDS
Find a cause to donate to
Looking to donate your refund but don't know where? We'll help you find a charity or community group that's right for you.
DONATE FUNDS
Find a charity or cause to support
Looking for more inspiration? Check out how others have benefited from Containers for Change.