THREE EASY STEPS
When you recycle with Containers for Change, you get a refund for every 10c container you return.
Not in WA? Click here
Save your containers
Get collecting
Bring them to us
Get returning
Earn a refund or donate
Get your refund
WANT TO RECEIVE YOUR REFUND STRAIGHT INTO YOUR ACCOUNT?
Then you'll want to set up a member number (scheme ID), a unique account number that lets you get refunded by EFT on the spot.
1. Save your containers
If your drink container has a 10c mark, bring it to us.
Most aluminium, glass, plastic, steel and liquid paperboard drink containers between 150ml and 3L can be saved. Make sure you take off the lids – we recycle those too, just separately.
LEARN MORE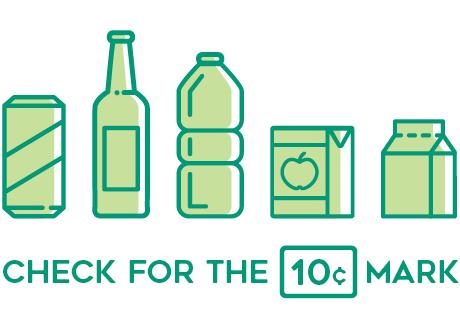 2. Bring them to us
Don't let your containers' potential go to waste. All across WA, we have refund points that will suit you. Depending on how many containers you're returning and how you would like to receive your refund, find your local refund point. 

FIND YOUR LOCAL REFUND POINT
Search by postcode or suburb.
Found a refund point? Great. Now it's time to sign up
3. EARN A REFUND, OR DONATE IT
Every container earns you 10c – which you can either keep or donate to a cause you believe in.