CQ Pet Rescue has been participating in the Containers for Change scheme since it began in November 2018. As at the end of October 2020 CQ Pet Rescue had raised more than $38,000 through the scheme.
Saving animals that are on the euthanasia lists in council pounds and catteries, they're the only animal rescue in the entire Central Highlands region, receiving no government funding or subsidies.
While the financial benefits are clear, there are other positive outcomes from the group's engagement with the scheme according to Treasurer Susan Consedine.
"The community has been a massive part of this project and their support has made such a difference to our recycling project," Susan said.
"The local Maraboon Tavern gives us all their cans and bottles for recycling, as do many other local businesses. The scheme is incredibly easy to engage with – the funds are simply deposited into our bank account, ready to be used."
The scheme is managed by CQ Pet Rescue volunteers including 76-year-old Selwyn Nutley who has collected more than 66,000 bottles and cans for the charity since the scheme began.
"The community have been a massive part of this project."
Susan Consedine
Treasurer, CQ Pet Rescue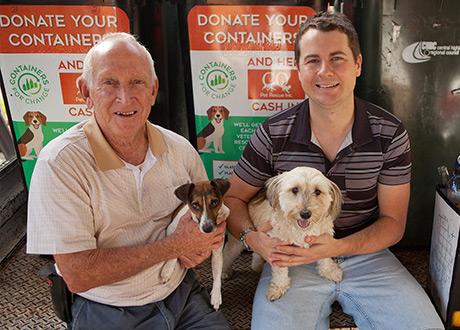 How group fundraising works
Get your whole network involved to increase the amount of money you bring in and maximise the change you make to those around you.
LEARN MORE
Get a member number for your group
Share your member number with supporters for an easy and efficient way for them to donate to your cause.
LEARN MORE