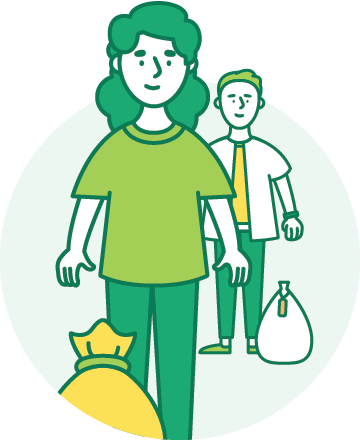 OVER 7 BILLION CONTAINERS RETURNED,
BUT WHAT HAPPENS NEXT?
HERE'S HOW IT WORKS
At home
Once you return your empties to a refund point, the operator counts the containers and sorts them by material type.
Logistics and processing
A logistics provider will then collect the sorted material from the refund point and deliver it to processing facilities where it's baled and weighed.
Our accredited recyclers
The materials are sold through an online auction portal to a panel of accredited recyclers each week.
New materials
Many containers come back as... new drink containers! Scheme material can also become road base, bicycles, prosthetics and more.
WHAT CAN CONTAINERS GET RECYCLED INTO?
PET (Polyethylene terephthalate)
Plastic bottles, food packaging, textiles, shoes, sunglasses...
Glass bottles
Glass bottles, road base, construction materials, insulation, glass tiles, countertops...
Aluminium cans
Aluminium cans, electronics, building products, takeaway packaging...
Liquid paperboard
Tissue paper, paper, plastic materials, construction board, construction materials...
HDPE (High-density polyethene)
Furniture, bins, construction material, sunglasses, shampoo bottles...
Steel
Steel cans, utensils, construction materials...