Each bottle and can will earn your body coporate or strata title management scheme a 10 cent refund or choose to donate it to a charity or community group. Recycling with Containers for Change means that empties have the opportunity to be given a new life. 
IMPROVE WASTE MANAGEMENT INFRASTRUCTURE AND INCREASE RESIDENT BENEFITS
We can make it easy for your building to recycle its containers, helping to meet your sustainability or social responsibility goals. We do most of the heavy lifting and take care of all the upfront costs.*
All you have to do is educate your residents about Containers for Change! 
There are a range of ways you and your residents can benefit from these refunds including: 
Create a sense of community spirit with all residents working together to raise funds. 
Contribute to the building's sustainability iniatives. 
Provide a more convenient way to practice with Containers for Change for residents. 
Raise additional funds to boost sinking and administration funds. 
Learn how Bryan is making change in his building
Bryan volunteered to be the container champion for his 250 unit building in West End, encouraging all residents to save and donate their empties. Bins were installed in the basement and he regularly liaises with a local operator to collect the containers, with refunds being donated to a number of international aid charities.
Learn what others are doing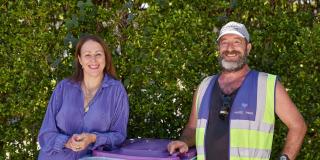 Recycling to help others
Residents of Blue Suite Apartments are recycling their containers to support domestic violence charity 'Hearts of Purple'. An average of 900 containers each month are donated via 18 dedicated purple container bins, distributed across the complex.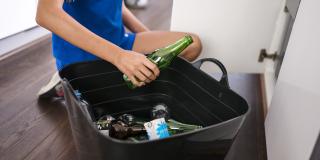 Assisting with body corporate costs
Residents at Vernon Terrace in Teneriffe help cover some body corporate costs by returning their containers to a central 240L collection bin. Each month, 34 apartments contribute over 1400 eligible containers to Containers for Change.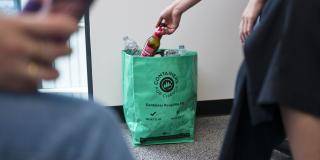 Saving for social events
A small block of 13 apartments in Redcliffe donate via a large 1,100L bin onsite. Residents use smaller collection bags to store and transport their empty containers to the central bin, with refunds contributing over $100 per month to the social fund.
*We do advise that once you are set up there may be a small service fee taken off the 10-cent refund amount (per container) that you will receive.