HOW REFUND POINTS CAN HELP YOUR GROUP OR BUSINESS
No matter the fundraising approach for your cause or the needs of your business, refund points can be your best collection allies all the way through.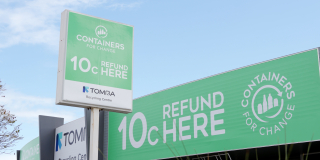 Supporting your fundraising
Consider your local refund point your new best friend, cheering you on your fundraising journey and giving you helpful tips and advice on how to reach your fundraising goals.
Start fundraising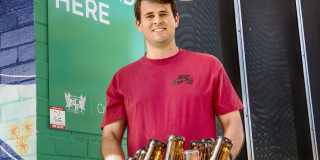 Helping you set up a donation point
If you are a charity or community group, you can ask your supporters to drop off their 10¢ containers straight to you.
Your local refund point may be able to supply bins and bags, making it easier for you to collect 10¢ container donations.
Become a donation point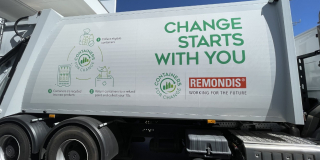 Arranging a collection services
If your workplace or venue collects a lot of 10¢ containers, your local refund point may be able to offer a collection service.

Alternatively, book a Collect service, and one of our service providers can come to you.
Book a collection
GET IN TOUCH WITH YOUR LOCAL REFUND POINT
Use the search tool below to find a refund point using the location of your home, charity, or
business. When reviewing the results, make sure you set the filter to show 'DEPOTS' only.
Partnering Stories
Across Western Australia, local container savers are making big differences in their community, while helping the environment.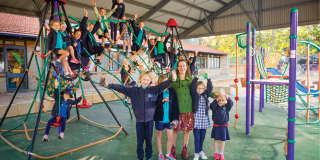 BEACONSFIELD PRIMARY TURNS CONTAINERS IN PLAYGROUNDS
A new nature play area, native plantings and 30,000 10¢ containers saved from landfill – these are just some of the things Beaconsfield Primary School has created since they started fundraising through Containers for Change just twenty months ago. 
Get inspired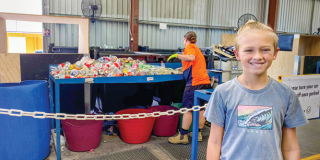 HUDSON HAS SAVED OVER 10,000 CONTAINERS FROM THE FILL
Over 1.5 billion containers have been recycled through Containers for Change in the past 21 months, putting $150 million back into the pockets of Western Australians - including 10-year-old Hudson from Baldivis.  
Get inspired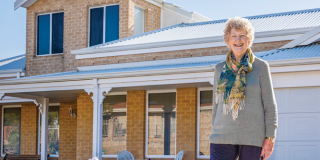 EDNA IS USING 10¢ CONTAINERS TO CHANGE LIVES
Like many Western Australians, Edna Walter uses Containers for Change to fundraise for a school. The difference? For this Heathridge container saver, the school she is supporting with her recycling efforts is on an entirely different continent! 
Get inspired
We're here to help
If you have any questions, visit our FAQ section or click the link below to contact us.