Make your whole Community part of the change
Ready to start your Containers for Change journey?
The first step is signing your local community group up for a member number. By having a member number, your supporters can donate their 10¢ refund to you.
Sign your group up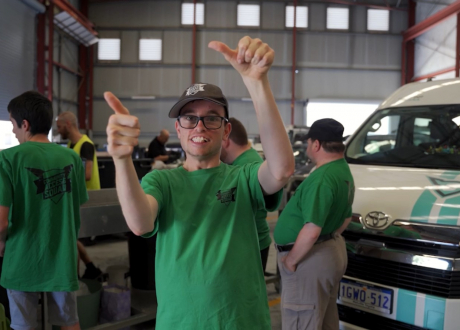 Collecting together is easy!
Get a member number
Signing up for a group member number is easy. You can add multiple people from your group to your account, so the whole team can track your returns, refunds, and donations.
Plus, by signing your local community group up to member number, your network and supporters can choose to donate their individual returns straight to you.
Learn more
Set up a donation point
Not only can supporters choose to donate their refund to you by using your member number, if you have the space, you can also set up a donation point at your location.
A donation point lets people drop their accepted 10¢ containers off to you, so you can return them to your local refund point and then collect the refund for your local community group.
Learn more
Spread the word
Now that you're set up, tell the world that you're fundraising with Containers for Change!
Visit our Fundraising Resources to access a range of posters, flyers, and social media tiles that are free for you to use.
Learn more
Be inspired
With everything in place and the word out there, anything is possible!
Read stories from some of our Western Australian container savers to get inspired.
Learn more
Your Containers for Change Group Checklist
Set the foundations
What trailblazer can be your team leader?
Have you got a member number for your community group or club?  
Can you place a collection bin and/or signage at your facility or club house?
Spread the word
Do you have supporters who can let their communities know you are fundraising?
Can you encourage your friends and family to donate their 10¢ containers?
Have you accessed our Fundraising Resources?
Work together
Is there a local refund point who can help you with your fundraising plans?
Is there a refund point nearby who can arrange commercial collection for you?
The only limit is your passion
Some refund points offer commercial collection services.
So, if your group needs a hand returning your collected 10¢ containers, speak to your local refund point operator to see how they can lend a hand.
Learn more