A NO BRAINER FOR YOUR 10¢ CONTAINERS
In partnership with Local Government Authorities (LGAs), we're rolling out Container Exchange Points in public spaces across WA.
When you're out and about, instead of throwing your empty 10¢ containers into the next bin you pass, simply drop it into a Container Exchange basket or cradle and save it from ending up in landfill. Just check for the 10c mark — if it's got it, drop it.
Your 10¢ container can then be collected and returned to a local refund point by another trailblazer (even you)!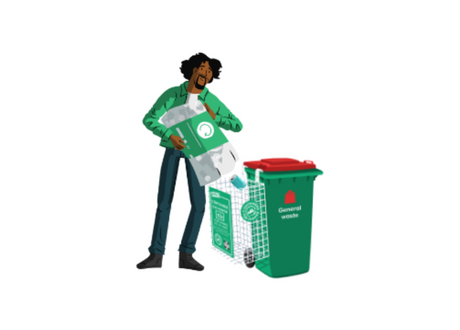 CURRENT CONTAINER EXCHANGE POINTS IN WA
Town of Bassendean
City of Bayswater
City of Belmont
Shire of Bridgetown-Greenbushes
Shire of Broome
City of Busselton
City of Bunbury
Shire of Boyup Brook
City of Canning
City of Cockburn
Shire of Denmark
Shire of East Pilbara
Shire of Exmouth
City of Fremantle
City of Gosnells
Shire of Irwin
City of Joondalup
City of Kalamunda
Shire of Northampton
Town of Kwinana
City of Karratha
City of Mandurah
City of Manjimup
City of Perth
Shire of Shark Bay
City of South Perth
City of Stirling
City of Subiaco
Shire of Wagin
Shire of Waroona
Town of Victoria Park
PART OF AN LGA THAT WOULD LIKE TO JOIN?
If you are part of an LGA in Western Australia that would like to participate, we want to hear from you!
With half of Western Australians admitting to throwing 10¢ containers into landfill bins while they are out and about, Container Exchange Points are a great way to tackle a prominent recycling issue.
For participating LGAs, we provide branded Container Exchange cradles and baskets, which are attached to public general waste bins.
Any 10¢ containers placed in a Container Exchange Point can be collected by a passer-by and returned to a Containers for Change refund point.
Get in touch with us by using the link below.
Enquire today