HOW TO SIGN UP
By signing your work or business up for a group member number, you can easily track your returns, manage your refunds or donations — and all your workmates can contribute to your collecting efforts.
Sign your group up
If you're part of a local community group or club, signing up for a group member number means you can easily track your collective returns — and if you're a good cause, your supporters can donate their refund straight to you.
Connect an individual account
So we have someone to contact, and you have someone to update and edit any details, a group member number needs to be linked to an individual account — don't worry, you can change this account at any time and add more people once you're setup!
For more information on connecting an individual account, scroll down.
Select the option that best describes your team
Are you a school, community group, or charity?
If you cover more than one, choose the option that best suits your group's main activities. For example, if you're a school with a charity status, we recommend selecting school for the best support.
Enter the required information
You will need your group's information such as trading name, postal address, ABN, and bank details.
Wait for confirmation
If your group has a charity or not-for-profit status, we will need to confirm this before we can activate your member number. This usually takes around two business days.
Access the member portal
Once your account is setup you can sign into the member number portal at any time. Here you will be able to set goals, track your progress, and update any details.
In the member number portal, you will also see your group's unique member number. You can share this with your supporters, and next time they make a return they can use it to donate their refund straight to you.
If you already have an individual account, select Connect My Personal Account.
If you don't have an individual account, you can set one up by selecting Create a New Individual Account and following the prompts.
After you have selected either of these options, the group account will be linked to this individual account and this account will become your group's captain.
Captains are the main points of contact for your group member number, kind of like an admin. Once set up, captains will be able to add more individual accounts to your group as teammates. Teammates can then access your group member number to track your 10¢ container returns and refunds.
Handy hint: Although the person who sets up your account will automatically be assigned as captain, you can change your captain at any time.
SIGNED UP? LET'S GET STARTED
TRAILBLAZING, 9 TO 5
Whether you're collecting 10¢ containers  to limit your environmental impact, or fundraising for a good cause — see how other WA businesses are returning through Containers for Change.
Learn More
THE ONLY LIMIT IS YOUR PASSION
If your workplace or business collects large volumes of 10¢ containers, an authorised refund point may be able to assist you with collections.
Learn more
YOUR GROUP'S CAPTAIN
Before you start fundraising you'll need to sign your organisation up for a group member number.
 
To do this, you'll need to connect an individual member number account, so we know who to contact if we need to. This individual account will become your group's captain — but don't worry — once you're logged in, you can change your captain at any time.
 
When you are setup, your captain can then add teammates to your group's account, making it easy for everyone to track your fundraising efforts.
Sign up now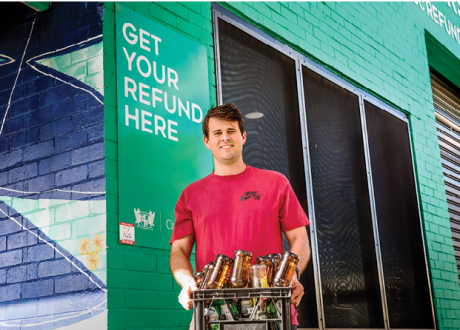 We're here to help!
If you have any questions, visit our FAQ section or click the link below to contact us.